The vagabond in you must have been mapping out destinations to explore and experience the aura of a place you visit. The scenic beauty, distinct flavour of food, indigenous music, art, festivals and language, rich history and people everything becomes a part of your travel diary when you are holidaying for leisure or adventure.
Tourism in Kashmir is a complete package for what a traveller like you seeks. Whether you are planning your holiday in Kashmir during the summers or winters, Kashmir as a travel destination in India attracts travellers from all over the world round the year. It is mostly frequented by leisure tourists during the summers in India when the climate is pleasant to explore the mighty.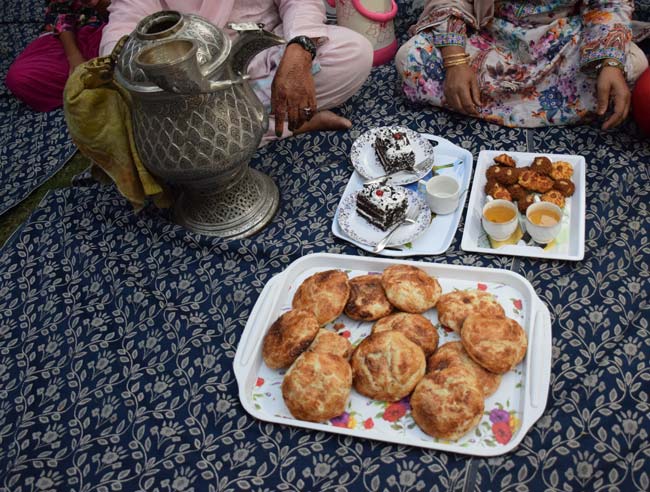 Kashmir best places to visit or popular hill stations in Kashmir like Srinagar, Gulmarg, Pahalgam and Sonamarg. Whereas travellers seeking for adventure tourism in Kashmir often visits during the peak of winters when the gentle meadows turn into a sloping bed of snow for winter sports like skiing, heliskiing and snowboarding.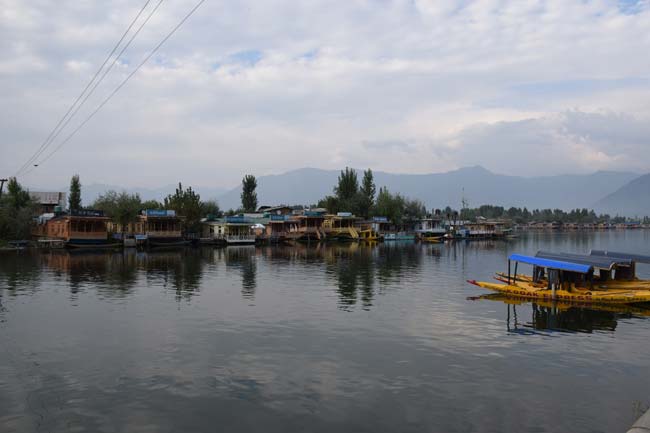 Kashmir as a leisure holiday destination in India is well known for its rich bio-diversity, remote shepherd villages and distinct culture. It is blessed with a rich scenic beauty owing to alpine meadows dotted with pine forests and orchards on the lap of the mighty Himalaya range. It's an abode of several high altitude lakes and glaciers, which gives the source to several rivers cutting across the valleys and making it rich with alpine vegetation. Unexplored destination or Least travelled places in Kashmir like Aru Valley, Naranag, Warwan Valley, Daksum, Doodhpathri, Lolab Valley, Gurez Valley and Kokarnag are the best examples for you to travel Kashmir little offbeat. In addition, trekking in Kashmir Valley gives you the opportunity to discover the remote shepherd villages and their indigenous culture. You get to experience the thrill to encounter several species of Himalayan birds and animals as well.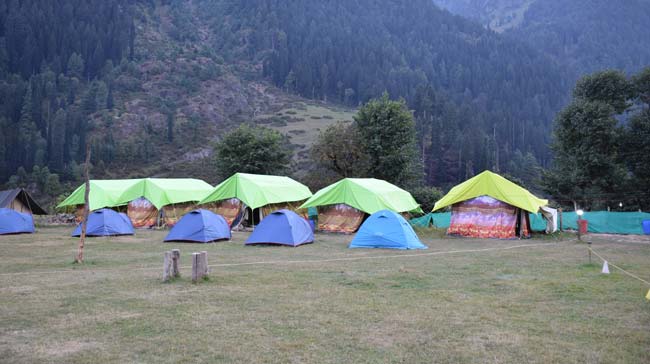 Undoubtedly Kashmir is a heartthrob travel destination in India if camping in the Indian Himalayan region is in your mind. It is the best way you can relish the scenic beauty and experience the alpine climate as well.
On the other hand, it is home to several high altitude golf courses and a summer in India is the best time when you can game on to it. If you are an adventure sports freak person, white water river rafting in the Indus River is one of the best way to spend your adventure holiday in Kashmir along with hiking trips. On your way to Sonamarg do visit the Avantisvami temple.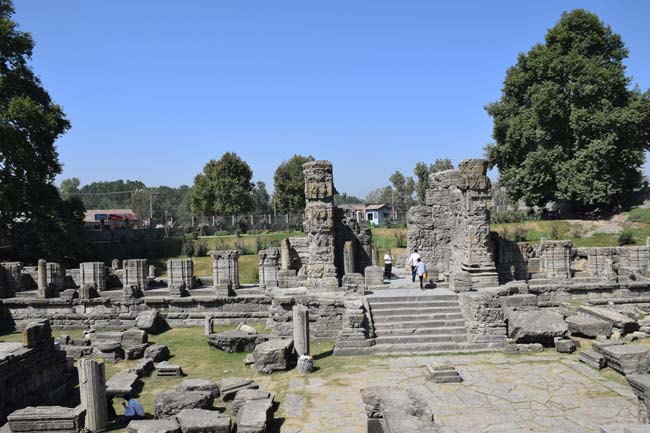 Talking about pilgrimage tourism in Kashmir, it is the home to both Muslim pilgrims and Hindu pilgrims. It is dotted with several mosques and historic Hindu temples which are the popular sight-seeing in Kashmir. The infamous Amarnath Yatra for Hindu devotees and Jamia Masjid in Srinagar are mostly frequented. Other places of interests for tourists in Kashmir are the colourful Mughal gardens and Dal Lake in Srinagar, markets of rich handicrafts and woollen items, churches and apple orchards.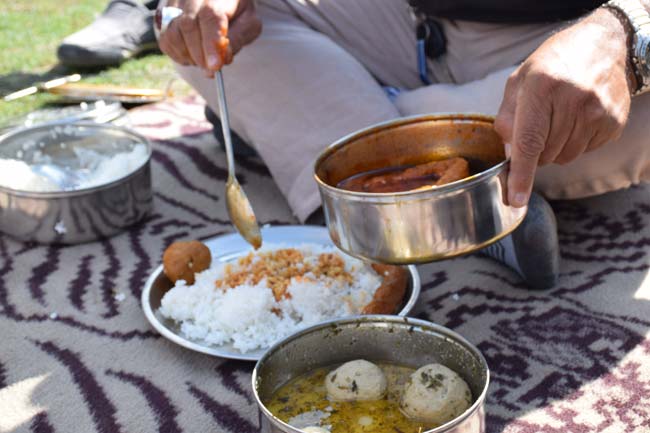 If you are a foodie and craving for meaty flavours, non-veg food in Kashmir is surely going to excite your taste buds. There are several restaurants in Kashmir that serves veg and non-veg Kashmiri cuisine. The houseboats in Srinagar are the best accommodation option if you are travelling with your family or on honeymoon. On the other hand, there are luxury hotels in Kashmir as well as budget hotels to choose from.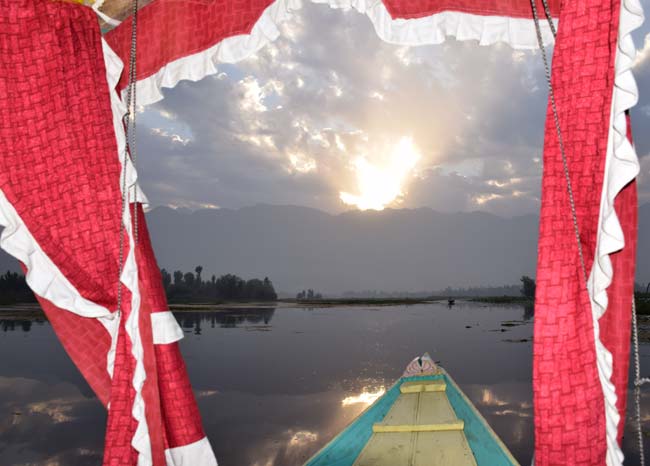 One can access Kashmir by road or air as the railway network of Kashmir is not linked to the main Indian railways. Jammu is the nearest railway station that connects Kashmir indirectly with rest of India whereas Srinagar has its own international airport and it connects directly Leh, Delhi, Kolkata, Mumbai, Bengaluru, Chandigarh, Jammu, Amritsar and Patna. The Srinagar Jammu National Highway and Manali-Leh-Srinagar Highway are two major roadways to get in Kashmir. Daily buses ply from Srinagar to popular hill stations in Kashmir otherwise one can hire taxis to travel in and around Kashmir.
Srinagar beyond Lakes, Shikharas and Snowfall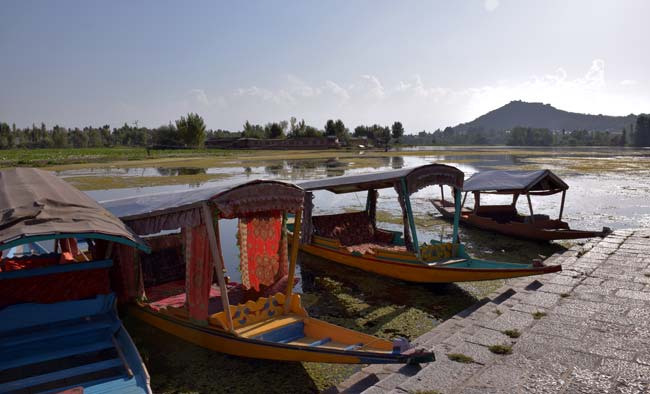 When visiting Srinagar the first thing comes to your mind is the Shikara ride in Dal and Nageen Lake. And trust me this is more than a visitors delight. The mesmerising view of the mountains from the shikara is beyond my words. And if your Shikara rider is a exceptional singer than this is definitely a bonus. Listen to this beautiful song of my Shikara rider.
There's an incredible signage that drives travellers to Srinagar every year even though the city witnesses a series of catastrophes. It's the unparalleled fusion of history, nature and culture that has steered tourism in Srinagar to shine as a beautiful hill station in the crest of India. Perched at an elevation of 1,585 meters, the divine city is a haven of lakes, gardens, historical monuments, and religious sites. It's an appealing summer gateway to the valley of Kashmir and a winter resort for tourists visiting to experience snowfall.
Of late it's the ancient Shetaleshwar Bhairav Temple that has become one of the major pilgrimage attractions in Srinagar for Hindu devotees. Dedicated to Lord Shiva, the temple remained closed for more than two decades and was reopened on the auspicious occasion of Basant Panchami in 2016.
Another most prominent landmark for Hindu devotees is the Shankaracharya Temple that dates back to 200 BC and holds historical significances as well. The Jeevnath Temple in Ladhoo village is yet another sacred place in and around Srinagar, which is least explored. Religious attractions in Srinagar also include the Jama Masjid, Hazratbal Shrine, Aali Masjid and Pathar Masjid that exhibits the beautiful and dominating Islamic culture in the city. The Gurdwara Chatti Patshahi and All Saints Church are the notable religious places to visit in Srinagar for Sikh and Christian pilgrims respectively.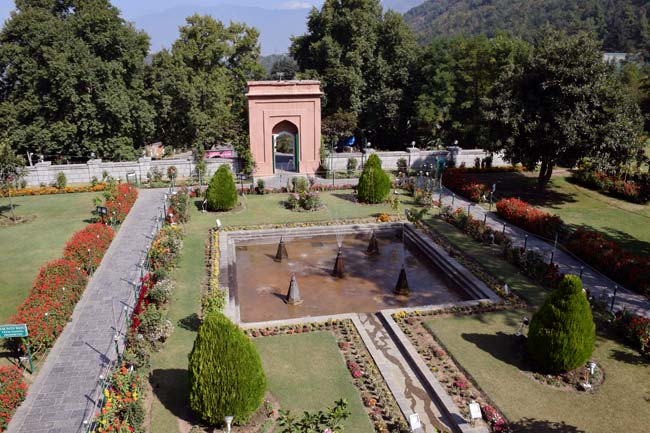 Besides the pious environment the city is infamous for a rich display of Mughal Gardens and the Shalimar Bagh is the largest one.If you are visiting Srinagar during the autumn and spring seasons in India, make sure it is in your must visit tourist places in Srinagar bucket list. The garden boasts of a scenic backdrop, having the Dal Lake, which is surrounded by the breath-taking Pir Panjal range. The NishantBagh, often dubbed as the Garden of Gladness, which is in close proximity to Shalimar Bagh is a sought after tourist sightseeing in Srinagar, especially for the honeymoon couples. The ChashmaShahi and PariMahal are other two notable Mughal gardens in Srinagar that holds tourist attractions on their Srinagar sightseeing tours.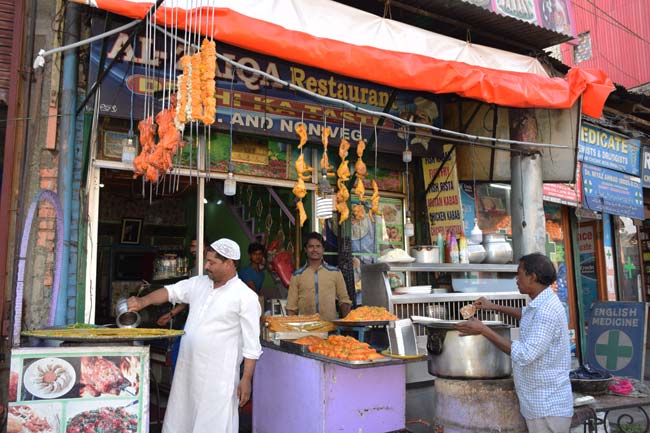 While you are on your Srinagar tour, you can't escape its distinct flavour of food and art. The city is a wonder of food lovers as it is an abode of the distinct Sufiana Kalam. If you are a hard-core non-vegetarian, the ultimate aromatic Rogan Josh is likely to be the feast for your taste buds. Other authentic Kashmiri delicacies include the Yoghurt Lamb Curry,Matschgand, Kashmiri MujiGaad and AabGosht. Veggies rejoice! You have the LyodurTschaman, ModurPulav and Dum Olav to try upon.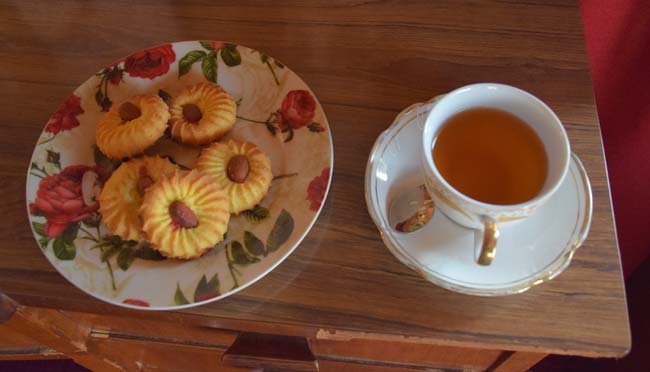 For refreshment you have the Kahwah, which is a popular green tea served in Srinagar and Noon Chai, which is one of the special beverages in Srinagar. Although Srinagar can be visited anytime in the year but the best time to visit Srinagar for tourists seeking refreshment is during the summers in India. If you are travelling to Srinagar to experience snowfall, December and January are the ideal months then. Some of the notable tourists' destinations in Kashmir that one must visit on their tour of Srinagar are Gulmarg, Sonamarg, and Pahalgam. Srinagar is easily accessed by road if you are travelling via Jammu as well as Leh in Ladakh region. The NH 44 and NH 1A respectively connects it. If you are an adrenaline junkie, the drive from Leh to Srinagar is surely going to excite you. Tourists can also reach Srinagar via flights connecting domestic cities likeLeh, Jammu, Chandigarh, Delhi and Mumbai. The Srinagar Airport directly connects Dubai and Saudi Arabia as well. The Jammu–Baramulla railway line is a remarkable initiative taken by the Indian government that is still in progress, which is going to connect Srinagar with the massive Indian railway network.
Sonamarg, Meadow of gold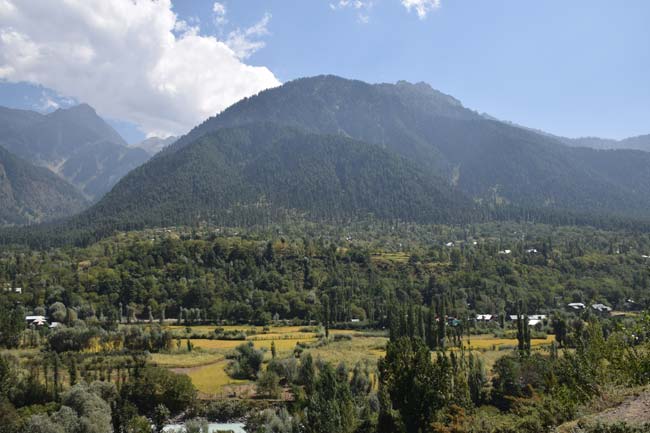 Sonamarg is located in the ganderbal district of Jammu and Kashmir. Situated at an altitude of 2743 meters above sea level. Sonamarg is absolutely true to its name which means meadow of gold. Check out the thajiwas glacier in winters though the town is covered with snow giving it an altogether different look.
The town has become famous for the many excursion option that it offers manly short walks and trek routes to nearby stunning areas. For all those adventure loving people who wish to enjoy camping at a hill station sonamarg is the ideal destination.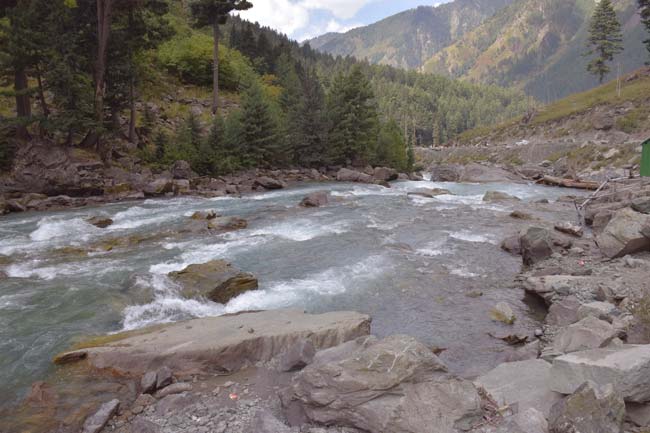 While here, one can visit the various lakes- Vishansar, Kishansar, Gadsar, Satsar, Gangabal and the Nilagrad and Sindh rivers. The Thajiwas Glacier, Zoji-La Pass, Zajibal Pass are tourist attractions not to be missed. One can also indulge in adventure sports including trekking and white water rafting. The nearby Baltal camping base is the starting point of the famous pilgrimage Amarnath.
The Dachigam National Park literally means ten villages due to its size, near Sonamarg houses several of the native flora and fauna including hangul, hill fox, cinnamon sparrow, bearded vulture and many more. The area is covered in coniferous forests and also flowers during the spring and summer. Marsar lake is situated within the interiors of this reserve and the Dagwan river flows from it.
The Local Eateries is a restaurant in the main market where one can try the local cuisine. Also, the market is a hub for handicraft merchandise.
Pahalgam, A nature's essence in the Kashmir Valley
Travelling in the enchanting hidden valleys of Kashmir has always been a dream for travellers from every part of the globe. AndPahalgam has all the beauty preserved, making it one of the most visited scenic destinations in Kashmir that can be easily accessed by road from Srinagar. Thus it turns out to be a slice of heaven for tourists seeking for a cool summer retreat. It's a gateway to numerous trekking destinations in the valley of Kashmir, bringing together the ardent backpackers who seek to explore as well. Set at an altitude of 2,200 meters and amidst the alluring Lidder valley, Pahalgam holds a rich cover of alpine meadows, which is an abode of numerous species of flora and fauna.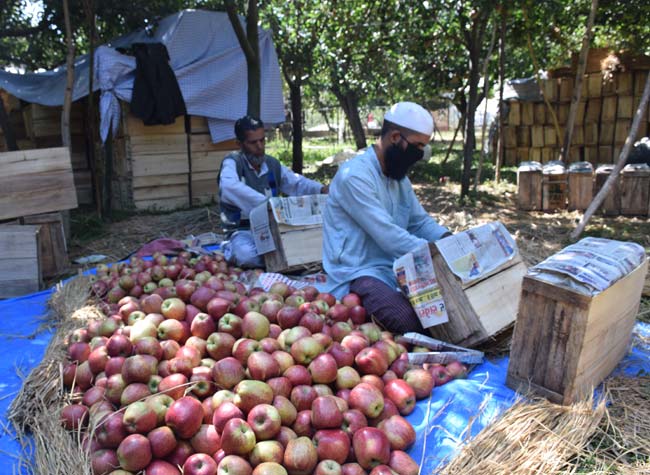 Although the best time to visit Pahalgam is during the summers in India when the temperature ranges from 11° C to 25° C but if you love to experience the apple season then it's the autumn. One could easily witness the rich apple orchards on their way to Pahalgam from Srinagar, which remains to be a treat for the eyes. Of late to give a fillip to tourism in Kashmir these apple orchards in Pahalgam are now open for tourists to explore.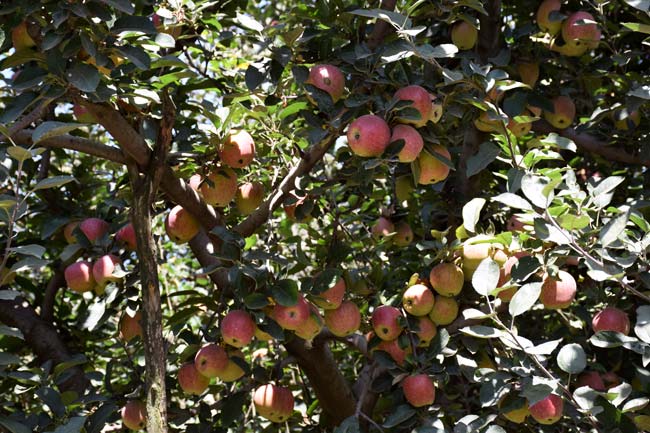 On the other hand, the pristine beauty of Pahalgam is further enriched with paddy fields, mustard fields and various fruits orchards as well. During your stay, you are likely to encounter various endangered species of animals and birds including the wild bears and European Hoopoes.
The Pahalgam fairway offers gorgeous views of the azure skies overhead a thick green turf and snow-covered peaks standing tall at the backdrop. For golf aficionados, playing their favourite sport here is a one of a kind experience. But novices too can try a hand at golf amidst the rich ambiance of the Pahalgam Green.Pahalgam is an ultimate destination for adventure tourism in Kashmir as well. Horse riding, white water river rafting in the Lidder River, camping in Lidderwat at an elevation of 3,048 meters, skiing at Sinthan Top and hiking in Aru Valley are must to do adventure activities in Pahalgam. If you are on an adventure holiday in Kashmir, the popular Aru Kolahoi Glacier Trek is surely going to meet up all your adrenaline rush. Other popular places of interests in Pahalgam are Aru, Betaab Valley and Chandanwari. The Aishmuqam, Sun Temple, Mamaleshwar Temple and Mattan are some of the noted pilgrimage sites in Pahalgam. The AmarnathYatra is one of the popular pilgrimage journeys for Hindu devotees that start from Pahalgam.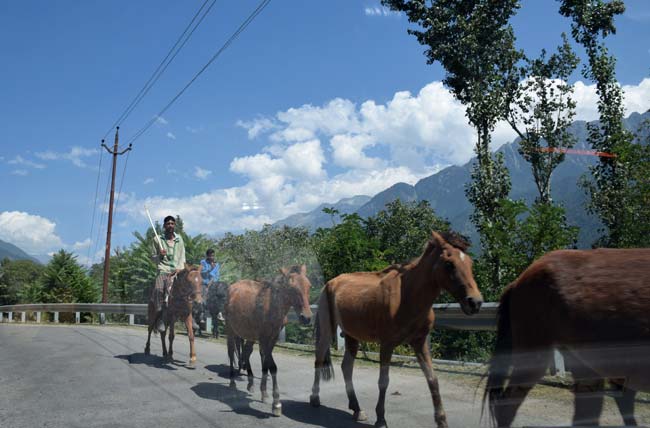 Travelling in and around Pahalgam is done mostly by walking, taxi and ponies. Pahalgam is easily accessible by road from Srinagar, which is approximately 88 km. There is a direct bus plying between Srinagar to Pahalgam every day or one can hire a taxi. It takes roughly 2 hr 45 min to reach Pahalgam keeping onto NH 244 followed by NH 1A. During the peak seasons it is recommended to book your stay in Pahalgam in advance. There are budget stay options in Pahalgam as well as luxury stay options. Popular eating options in Pahalgam include the NathuRasoi, Dana pani, Punjabi Rasoi, Troutbeat and SagarRatna.
Gulmarg, A Popular Summer Retreat in India
If exploring the best hill stations in the Indian Himalayan region is in your travel diary, Gulmarg is ought to be one of them. It is a great asset of Kashmir tourism as it's a heartthrob skiing resort in the Kashmir valley. On the other hand, Gulmarg is B'town's one of the sought after shooting locations and blockbusters like Bobby, Yeh Jawani Hai Deewani, Highway and Haider are the finest examples. The mighty hill station that is nestled beautifully at an altitude of 2,650 m is otherwise one of the popular summer retreats in Kashmir for tourists travelling with family and kids during the summer holidays in India. On the other hand, it's an abode of adventure tourism in Kashmir for one who seeks winter sports in India, camping in the lush green meadows during the summers and trek to secluded shepherd villages in the North Western anchor of the Indian Himalayan region during the peak seasons.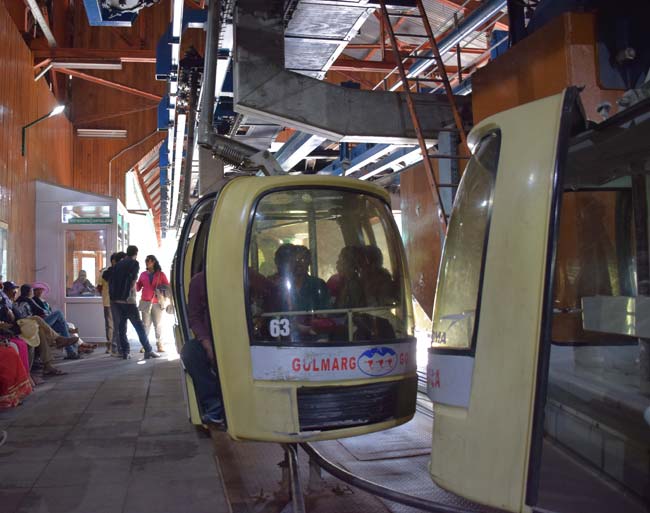 One of the major tourist attractions in Gulmarg is the infamous Gondola ride, which starts from 9 in the morning till 4 in the evening. You have the options to choose Gulmarg Gondola tickets online between Phase I (Gulmarg to Kungdoori), Phase II (Kungdoori to Apparwath) and Phase III (Kungdoori to Mary Shoulder).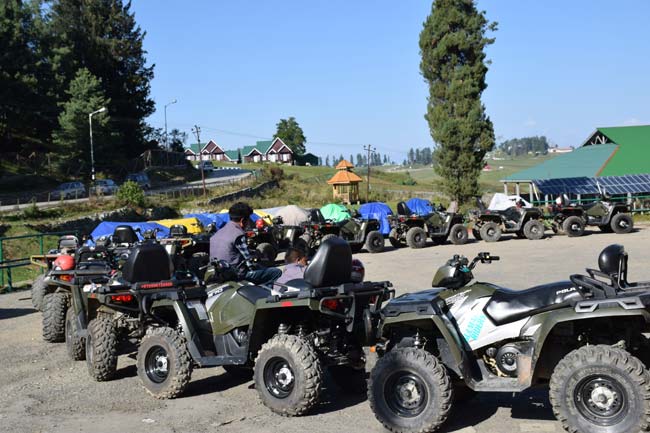 The Phase I is mostly frequented by tourists seeking leisure activities in Gulmarg whereas Phase II is recommended for travellers looking for skiing in Gulmarg. However the Phase III is chair lift and one can enjoy the divine horizon of the majestic Pirpanjal range. If you are lucky to receive a clear blue sky, the ostentatious display of Mount Godwin Austin or K2 (8,611 m) from the summit of Apparwath Peak (4,390 m) is an ideal treat for the DSLR you are carrying. The Nanga Parbat (8,126 m) and several seven thousanders can be sighted as well.
Access to Gulmarg during the winters is quite difficult but the season turns it out to be the hub for Skiing Pros from all over the world. Other winter sports in Gulmarg like heli-skiing and snowboarding are must to do adventure activities in Gulmarg if you are planning to visit in the peak of winters in India. On the other hand, during the summers, activities like golfing, hiking and camping remains the major attractions. Trekking in Gulmarg is one of the popular adventure activities as well. The trek to Alpather Lake and Apharwat Peak are the noted ones.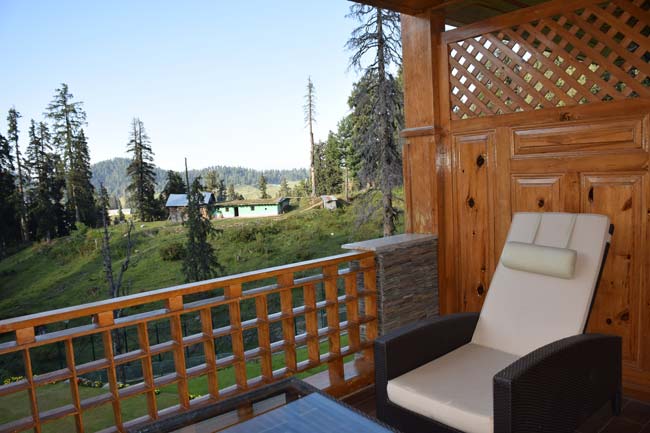 If you are on a leisure holiday in Gulmarg and travelling with your family, the Grand Mumtaz Resorts, Khyber Himalayan Resort & SPA and Shaw Inn are the best options to stay. Budget hotels in Gulmarg include the Hotel Hilltop, Pine Palace Resort and Alpine Ridge. Although you will find many other options as well but it's recommended to book hotels in Gulmarg in advance during the peak summer season in India. The Cloves Restaurant, Sahara Restaurant, Raja Dhaba and Downhill Restaurant are some of the best places to eat in Gulmarg.
Gulmarg can be access by road from Srinagar. It is approximately 60 km and takes 2 hour roughly. It is well-connected with regular bus services from Srinagar, Sonmarg and other neighbouring towns in Kashmir.
Here is why Aru Valley is mostly frequented by travellers
Some journeys are worth a lifetime and travelling to Aru is undoubtedly one of them. Nestled at an altitude of 2,414 m, it is one of the coolest places to visit in Kashmir during the summers in India. If you are seeking holiday in Kashmir, little offbeat and away from the tourists crowd, Aru Valley must be an inclusion in your Kashmir holiday itinerary. It is mostly frequented by tourists looking for a peaceful and pleasant vacation with their family, honeymoon couples or avid travellers mapping out strenuous treks in and around the beautiful valley. It is famous as a hot spot for bio diversity and home to several endangered Himalayan species, due to proximity to Overa-Aru Biosphere Reserve that is spread over an area of 511 sq. km. and ranges from 3000–5425 m.
Although Aru Valley is noted for its scenic meadows, cattle farms, shepherd village and rich alpine forests, it is worth fishing of trout in the Lidder river, trekking, hiking, horse riding, sightseeing and photography as well. During the winters in India the valley receives heavy snowfall, which turns it into another popular skiing destination in Kashmir. Adventure activities in the Himalayan region like snowboarding and heliskiing are also possible in Aru valley during the peak winter months. The temperature dips to below freezing point during the winters whereas summers are pleasant. High altitude trekking in and around Aru Valley, which includes the TarsarMarsar Trek, AruKolahoi Glacier Trek, Vishansar-Kishansar lakes trek and Katrinag Valley trek are possible from the month of May to October. One can often see animals like the snow leopards, Himalayan wolf and black bear while travelling through this least explored routes on earth.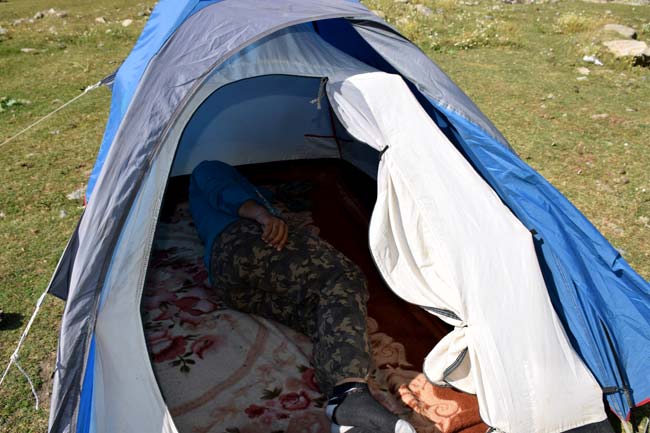 Aru is a sparsely populated village and camping in Aru Valley is one of the best options to relish the scenic beauty. Otherwise properties like Milkyway Guest House, Friends Guest House and Rohella Guest House are the recommended places to stay in Aru. Eating options in Aru is limited but you can still find out small restaurants serving Kashmiri cuisine and Kashmiri Kawa flavoured with Saffron and almonds.
One can access Aru by road from Srinagar, which is approximately 117 km and roughly takes 3 hours to reach. It is a popular sight-seeing destination in Kashmir for tourists holidaying in Pahalgam, which is approximately 12 km away.
Nara Nag, An Archaeological Gem in the Kashmir Valley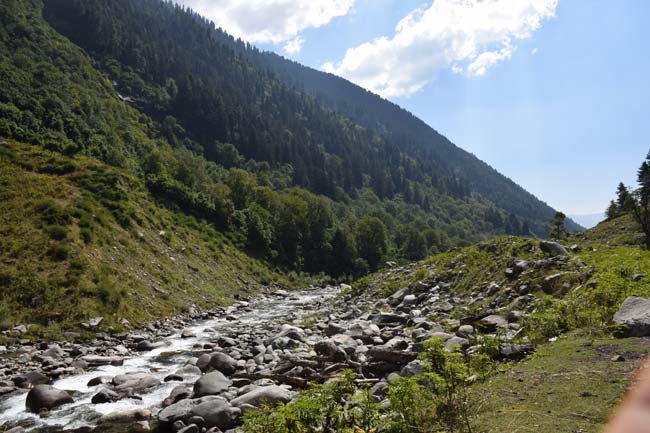 You thought Kashmir is an ocean of nature's own treasures. But believe it or not it's an abode of ancient civilization too, which is secluded in the snow crested mountain ranges. Visit Nara Nag and you get to explore the finest archaeological treasures preserved for years, which is now easily accessible for trekking enthusiasts during summers and autumns in India. Who so ever witnessed the glory of mankind at such an elevation of 2,128 meters, surrounded by towering mountains, alpine lakes and miles of wilderness, must have planned for their second visit. In addition, it's the beginning for a new journey as well. Nara Nag is the centrum of least explored villages in Kashmir and strenuous treks in the northwestern Himalayan range. The infamous Gangbal Lake at 3,575 meters in the foothills of Mt. Haramukh (5,142 m) is a dream trekking destination in Kashmir during the summers.
The journey to the land of Kayastha Naga Karkota Dynasty begins from Srinagar, which is approximately 3 hour of drive. The existence of the ruins of the Nara Nag Temple and the Wangath Temple Complex are the major attractions in Nara Nag for travellers. Dedicated to Lord Shiva, it is believed that these archaeological monuments were built during the 8th century by LalitadityaMuktapida. The architectural style of these temples reveals the typical Aryan structure.
On your visit to Nara Nag you can explore the remote village and scenic alpine meadows as well. It is a picture perfect camping location in Kashmir valley if you are searching for one.
Nara Nag is a paradise for adventure aficionados. It bridges several trekking routes in the Kashmir valley that include the popular Seven Lakes trek in Kashmir too. The Gadsar Lake, Vishansar Lake and Krishansar Lake are some of the high altitude lakes of the Indian Himalayan region in Kashmir that can be accessed by foot from Nara Nag. On the other hand, you get to discover the remote shepherd villages, cattle farms and alpine vegetation nearby. If you are travelling Nara Nag during the winters you get to experience heavy snowfall where the temperature dips to below freezing point. Although it is an ideal skiing resort in Kashmir during the winters in India (recommended for professionals only).
Access to Nara Nag is possible by road if you are driving from Srinagar but it can also be reached by foot after an easy trail from Sonmarg. There are limited staying options in Nara Nag as it is not a commercialized tourist destination in Kashmir. But camping in Nara Nag is possible during the summer season in India. Being a remote village, there are as such no eating options unless and until any of the shepherd family offers you hospitality. Lucky you are to taste it!
For full journey of Kashmir check out the below video. And do visit our YouTube Channel.